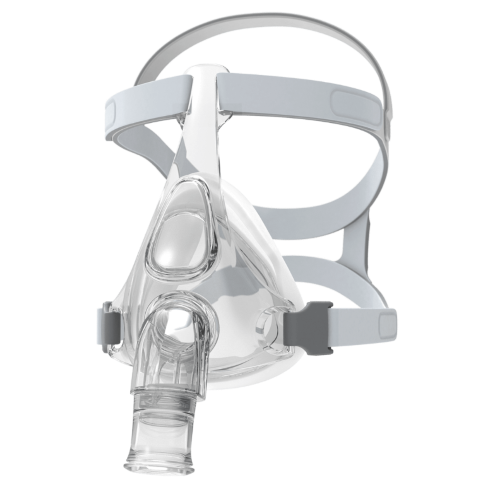 Non-vented mask, compatible with single-limb circuits, requiring exhalation port
An anti-asphyxiation valve for safety in case of ventilator failure.
RollFit™ seal adapts to different face shapes and minimizes pressure on the bridge of the nose.
TubeFit™ zones for placement of nasogastric or orogastric tubes.
ErgoFit™ with Easy Clips and breathable fabric to help with fitting and adjusting.
Available in four mask sizes: XS, S, M and L.
Learn how to fit the F&P Nivairo™ mask
Watch this fitting video to learn how to size, fit, adjust and remove the mask.
| | | |
| --- | --- | --- |
| | Hospital, non-vented, full face mask, compatible with single-limb circuits, requiring exhalation port; Extra small | |
| | Hospital, non-vented, full face mask, compatible with single-limb circuits, requiring exhalation port; Small | |
| | Hospital, non-vented, full face mask, compatible with single-limb circuits, requiring exhalation port; Medium | |
| | Hospital, non-vented, full face mask, compatible with single-limb circuits, requiring exhalation port; Large | |
| | |
| --- | --- |
| | Non-vented with anti-asphyxiation valve |
| | |
| Recommended Breathing Circuits | RT219 Bi-Level/CPAP Circuit |
| | Single-patient use; maximum 14 days |
| | Silicone, Acetal, Polycarbonate, Nylon, Elastane, Polyester, Polyether Polyurethane Foam, Polyester Polyurethane Foam |
| | Incineration, or according to hospital protocol |
| | |